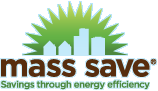 Replace Your Aging Boiler or Water Heater and SAVE.
Rebates up to $2,750 are available for replacement of your boiler as part of the mass save(R) program.
To qualify, replacement units must have a certified inspection to assure its age and operation. Installation must be completed by 12/31/19.
Under the same program, up to $800 each is available for the installation of qualifying ultra-efficient water heaters. These rebates are available for both new installations as well as for replacements for existing heaters.
Additional Rebates Available for These Energy-efficient Controls.
Rebate of $225 on After-Market Boiler Reset Control. This is an add-on unit. Traditional boilers maintain a constant water temperature (typically 180 degrees F) throughout the heating season. With a boiler reset control, water temperature is reset according to the prevailaing outdoor temperature. During the coldest days, the 180 degree temperature is maintained, but on milder winter days the temperature is lowered maintaining comfort while signifcantly reducing fuel consumption.

Rebates of up to $100 are available for the installation of new wireless Energy Star Smart Thermostats.

Rebates up to $25 available for installation of new Programmable Thermostats.
Give us a call at 508-317-5525, or click below to schedule your FREE no-pressure/no-obligation consultation.